Best Kitchen & Bathroom Design Ideas
You spend a majority of your time at home either in the kitchen or the bathroom more than you realize. Your bathroom is where you typically begin and end your day, and your kitchen is where you gather with family to eat, help with homework, talk about your day, etc. Wouldn't you want those rooms to reflect your personality and be functional all at the same time? At Hanover Carpet One, we can help you make your dream kitchen and bath become a reality. Our professional staff is educated in helping you choose everything from the right flooring to functional storage options for both kitchens and bathrooms. Before you jump into a project, there are some basics you should know about, learn more below.
Kitchen Cabinets & Storage
We offer cabinets that are both functional as well as stylish. Choose from our stock cabinet selection if you've got a low budget project, they are pre-assembled and come in standard sizes to make your selection easier. We also offer custom cabinetry, this gives you the flexibly to choose exactly what you'd like and make your kitchen or bathroom completely unique.
Cabinets come in different heights and sizes ranging from standard base cabinets, wall cabinets, and tall cabinets also known as a pantry.
We are an authorized dealer for Omega, Norcraft, and Homecrest. Be sure to stop by the showroom to see these brands first hand!
What Kind of Countertops are Best?
Countertops come in a variety of options from different materials to different colors. Just like any other product in your home, trends come and go with countertops as well. The most budget friendly option is laminate, which comes in a variety of colors and patterns that can mimic stone or wood. Stone countertops, like granite, marble or limestone, are the most popular because of their beautiful look and natural durability against heat and scratches. Quartz countertops are a man-made, low maintenance choice that is stain and partially heat resistant. Butcher block countertops are becoming more popular and are great for food prep and quick clean up.
To learn more about our kitchen and bathroom design essentials, contact Hanover Carpet One Floor & Home in Tampa, FL.
Kitchen and Bathroom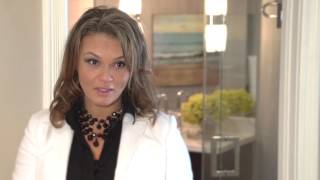 Best Bathroom Design Ideas
Hear from our design experts to get top tips regarding your bathroom renovation.